Snacks and Bakeries
Posted by SHAHID KHAN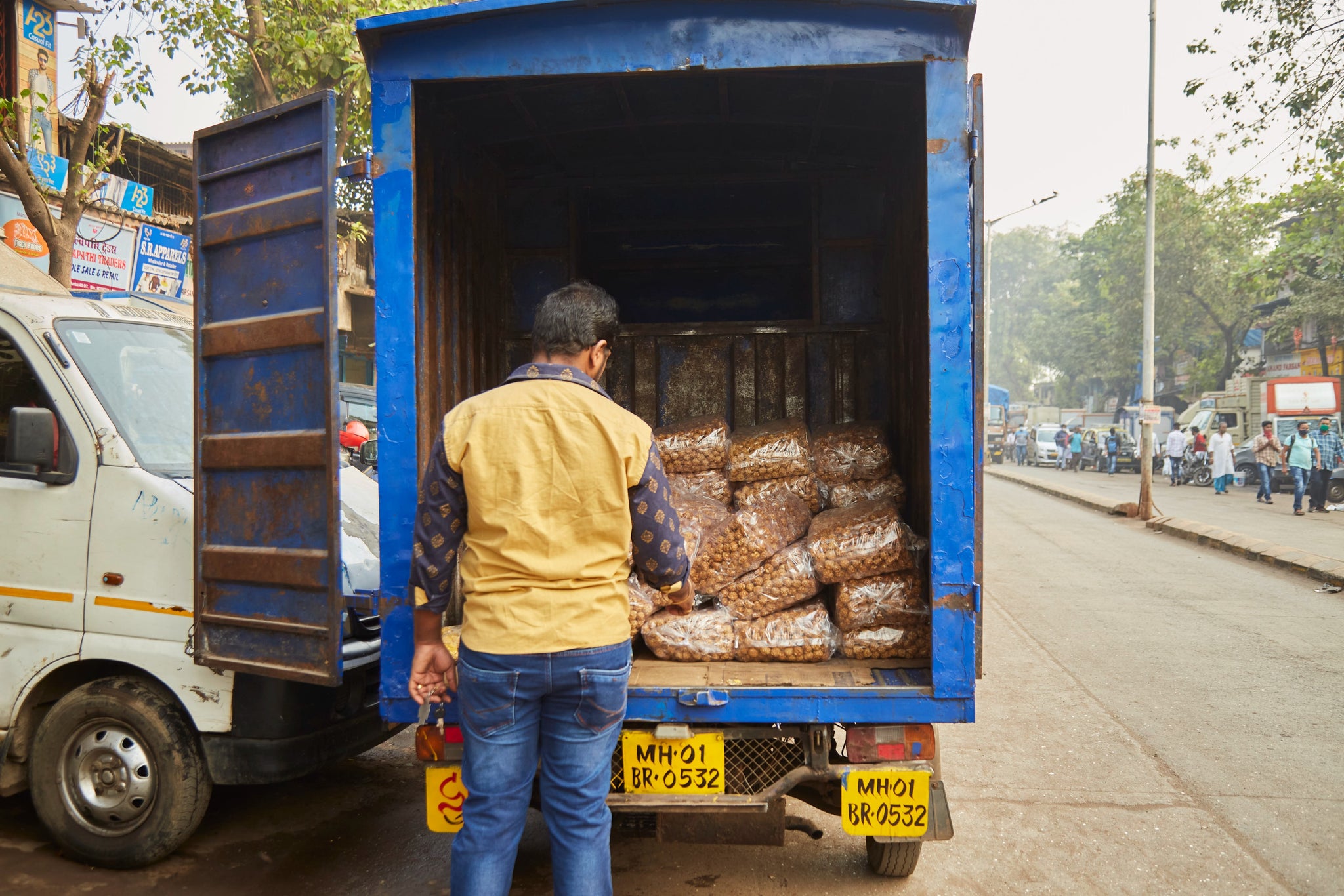 Dharavi has a big food business of manufacturing chiki, channa, chakli, papad, bread, bun and mysore pak. If you walk down Dharavi Cross Road, you will find on either side shops laden with goods which have been manufactured and packed in the homes and lanes just behind these shops.
Dharavi's chiki-makers produce tons of the peanut brittle which is sold all over the city and outside. In addition to chiki and mithai, you will see many women rolling out papads. Some of them are supplying them to Lijjat papad. This is a women's organization called Shri Mahila Griha Udyog Lijjat Papad. It began in 1959 with a few women in central Bombay rolling out papads to earn some extra money. It has now grown to an organization with 40,000 members throughout India. Lijjat has 8,000 registered members in Mumbai, of whom around fifty live in Dharavi. These women travel to Bandra every day to collect the wet dough from which papads are made. Within a couple of days, they are back with the rolled out papads which have been dried in the sun. For their efforts, these women earn an average of Rs 50 to Rs 60 per day.
Of course, not all the women you see rolling out papads are part of Lijjat. Many do this for private entrepreneurs and are probably not paid as much.  You often see the papads, which are dried in the sun on upturned baskets, sitting in a playground or a small square next to a place of worship. The Lijjat organizers insist that their members have to take care to maintain hygiene and that there are frequent inspections.
When the police decided to crack down on the illicit liquor business, many turned to baking and opened bakeries. Hand crusted bun known as Brun and slice bread are made and supplied early morning to restaurants where people have Mumbai special bun maska (bun with butter) and chai before going to work. Khari and butter biscuits are also produced in Dharavi. 
The baked goods are sent either through pheriwalas who go on foot with a tin box on their heads carrying freshly baked biscuits or the cycle wallahs who balance a tray at the back two large bags packed with bread on either side of the handlebar. Each bakery has a group of pheriwalahs attached to it. They get a place to sleep and in return they buy and sell products.
Punjabi Ghasitaram Halwai Karachiwala, one of the most popular sweet shop chains in the city is located today in what was the Diamond Aerating Works, a soda water factory that was built in 1949 in Dharavi. Ghasitaram moved to this spot in 1978 from another location in Bombay. The business was founded by Govardhandas Ghasitaram Bajaj who had come from Karachi after Partition. He had decided to continue with the sweet business in independent India. His family had run a similar business in Karachi since 1916. His sons continued the business but split in 1978. One of the brothers now has the factory in Dharavi.
Mohan Katre, the manager of the factory, takes great pride in every aspect of his work and has been with the Bajaj family since 1951, when they began with a small sweetshop in Kalbadevi. Theirs is the biggest Indian sweets manufacturing factory in Mumbai and possibly in India, says Katre.
The factory remains as it was when the Diamond Aerating Works owned it. In a huge cavernous high-ceilinged hall, there are groups of workers doing different things. At one end are six stainless steel boilers for heating the milk. On the side are iron kadais, where the milk is converted into khoya for Bengali sweets and for gulab jamuns. The factory uses 2,000 litres of buffalo milk and 800 litres of cow milk every day which arrives at the factory gates from Vasai, Dahisar and Turbhe, on the outskirts of Mumbai.
The most interesting aspect of the trade is that each set of workers comes from a different part of India. Thus, Bengali workers make chamchams and rosogullas, Punjabis make ladoos and gulab jamuns, Maharashtrians make kaju katris and barfees and the UP bhaiyas make khoya and milk-based sweets as well as some of the savouries, like samosas. Ghasitaram employs around 200 workers who live in the compound or just across it. 
(Source: Compiled from Kalpana Sharma's book 'Rediscovering Dharavi', Penguin Books, 2000) Collection 2019 Sale 70% Off Title for image